[img]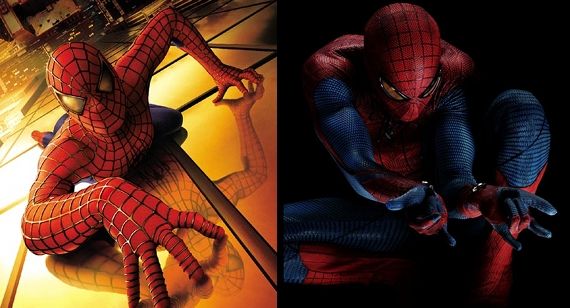 [/img]
WATCH OUT! HERE COMES THE "NEW" SPIDER-MAN: OH WHAT A WEB WE WEAVE SONY


So this weekend I watched the recent reboot of an old favorite, The Amazing Spider-Man. Yes, I'm actually old enough to remember the original cartoon (shh! keep that under your hat). After watching it On Demand I got to wondering why would Sony do a reboot of a highly successful franchise that was in theaters not too long ago (2002)? And would this be considered a re-reboot

? Surely, these are questions that will keep scholars busy for the next 100 years, but an inquiring mind really wants to know, especially since there's an Amazing Spider-Man 2 expected to be released in the near future. Fanboys will surely wet the bed on this one, because this new series is reported to follow the comic version. ANYWHO, my search to explain the breach in the space-time continuum lead me to screenrant.com:
http://screenrant.com/spider-man-movies-reboot-comic-book-retcon-kofi-155955/

Screenrant's explanation was as confusing as Chinese Arithmetic

. According to rant, there's something called "retroactive continuity" or "retconning" and it's when creators go back and revise aspects of a character or story that have been previously established

. I have to ask, to what end? More to the point, why would Sony do this with Spider-Man? Isn't this akin to brand confusion? It's not like the Tobey Maguire films tanked. If I remember correctly they made a ISH-load of $$$$ off of those films

. They could've easily picked-up where the last one left off and still raked in some serious booty Blackbeard style

!

CAN SOMEONE PLEASE EXPLAIN THIS STRATEGY TO ME? I WON'T SLEEP A WINK

UNTIL I FIGURE OUT THEIR DIABOLICAL PLAN!

Last edited by Admin on Tue Feb 26, 2013 9:22 am; edited 1 time in total
I think they realized that the original three films went in a direction that were'nt appealing to the comic fans and ruined what should of been epic series and epic battles between spidey and his enemies like the venom battle for instance. I'm glad they are redoin the series lets just hope they get the shit right this time around and don't create another group of garbage films like the original three X-Men films....ugh



Posts

: 2


Join date

: 2013-02-26



>Latinlyncher

Your explanation would make sense if Sony thought that further Tobey Maguire films would not make huge profits. It's probably more likely that Maguire wanted too much money for another film or he made a career decision not to do anymore. I can't see producers & investors giving up a huge profit to make fans happy; not unless there was a huge profit gain to be made (hence making the first 3 films and now creating a new franchise to make many more--doubling down). If they were only concerned about keeping the fans happy they would have changed after the first movie or perhaps just done it right the first time around.

Whatever the case I guess we should be happy provided they do the web slinger justice

.

[img]
[/img]


EXTRA, EXTRA, READ ALL ABOUT IT! COLUMBIA PICTURES' PRESS RELEASE OF SPIDER-MAN 2 LESS THAN AMAZING!


The press release (with synopsis) on the second Spider-Man film is as forgettable

as last year's first installment of "The Amazing Spider-Man." I just don't get it. This rebooted reboot (or is that reboot rebooted?

) franchise has everything going for it, but a good story. Let's take stock of the assets that should make this thing work. This new take on Spidey promises to follow the comic book series and original cartoon, it casts proven award winning and nominated actors like Sally Fields, Martin Sheen, Pual Giamatti, Emma Stone, and Jamie Foxx. This reboot also has the muscle of top-notch special effects and some major mucho dinero behind it that only a major production company can conjure up. So what's the problem? I'll give you a hint:

. You always need to start off with a well told story. Hollywood has this notion (at least this is what I learned in film school) that high-concept films skimp on story, but typically comes with big-budgets and grand themes and low concept films focuses on character and etc... I think we should have our cake and eat it too. Give me a high-concept film with a great story any day of the week

!

AnyWHO, if you want to read the official Columbia Pictures press release on The Amazing Spider-Man 2 you can follow this link, (because, I refuse to promote fluff on my thread

):


http://movies.yahoo.com/blogs/movie-talk/amazing-spider-man-2-gets-official-completely-generic-201712000.html


Similar topics
---
Permissions in this forum:
You
cannot
reply to topics in this forum