[img]
[/img]


STAR TREK FOR THIS GENERATION: LET'S BOLDLY GO THERE


While I have questioned in a previous thread the viability of a J.J. Abrams' Star Wars, there's no doubt about him being appropriate for Star Trek. His 2009 debut of Star Trek successfully captured the essence of the franchise and revitalized it for this generation

. Yes, he nailed it... and lens flared it

! Bright streaks aside the reboot was a win in my book

.

Yet, the second installment "Into Darkness" is surrounded by a lot of mystery. Is it about Khan, an out-of-control Klingon, a sinister Romulan, or something else completely? The 'Darkness' script was written by Damon Lindenlof, Roberto Orci, and Alex Kurtzman. Considering the ambiguous script Lindenlof supplied "Prometheus" I can't help but to wonder if the same air of mystery will plague this new film and leave us off-centered in the Universe of Trek, but I digress. Because, Abrams has too much on the line to toy with fans of Trek. No, I think we're in for a real treat. It's gonna be like Christmas

on May 15, 2013! If you're into spoilers you can read about some expected events in this article:

http://www.latinospost.com/articles/13180/20130227/star-trek-darkness-film-news-s-really-bad-guy-enterprise.htm
WHAT DO YOU THINK?

ABRAMS-"TO HELL WITH THAT PESKY PRIME DIRECTIVE...I'M MAKING HISTORY, BABY!"

Judging by the latest "Star Trek Into Darkness" trailer Abrams is going where no man has gone before

! Violating the Prime Directive is akin to giving nuclear weapons to cavemen. You don't know what they'll do with them or how that knowledge will interfere with their development. There are a few governments in the real world that could take a page from the Trek book

.

J.J. Abrams is certainly risking alienating Trek fans by violating this long standing tradition. But judging by this new trailer I don't think he has too much to worry about. The action sequences look PHENOMENAL

! No one can argue that this franchise before his 2009 reboot was in dire need of a hypo-spray full of revitalization. I can imagine the conversation between him and the producers before his 2009 reboot:

PRODUCERS: "Well, DOC we heard you're one of the best in the biz and we need you to revive this franchise STAT!"
ABRAMS: "Look, Man! I work magic, not miracles. Go dig up Roddenberry!"
PRODUCERS: "Here's a boat-load of cash if you can conjure up that miracle." (Throws kings ransom on the table)
ABRAMS: "Hmm, throw in Star Wars and I'll make the parting of the Red Sea look like a parlor trick."
PRODUCERS: "Done."

If the film turns out to be as good as the trailer I'll be the first to give him KUDOS!

WHAT DO YOU THINK?
Last edited by Admin on Sun May 19, 2013 2:13 pm; edited 1 time in total
[img]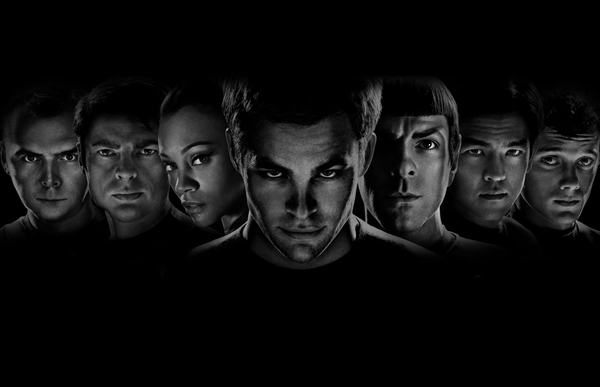 [/img]
"STAR TREK" SEQUEL: KUDOS FOR A JOB WELL DONE, MR. ABRAMS!
Star Trek Into Darkness scored high marks in my book yesterday, however I would have to give it a second viewing to fully appreciate this spectacle. The film's fast-pacing, witty humor and great acting provided a much needed thrill ride to kick-off the summer blockbuster season.

Abrams' latest installment didn't allow much time between beats for keen-eyed skeptical fanboys

to scowl over any possible missteps along the way. No– this was a brazen adrenaline eye-gasm filled with twists, turns, action and yes...LENS FLARES!



I will not give away any spoilers. I will say that Benedict Cumberbatch put the "V" in villain and did justice to the role made famous by Ricardo Montalban A.K.A KHAAAAAAAAAAAANNNNNNNNNNNNN!!!!!!!!!



J.J. Abrams deserves a HUGE congrats for reviving a franchise that was in serious need of a hypo-spray. I think Gene Roddenberry would be happy with Abrams boldly going where no one has gone before (or at least revisiting old territory).


Similar topics
---
Permissions in this forum:
You
cannot
reply to topics in this forum