Continuum started out okay for me; I'm waiting for it to kick in to second gear though. The action and special effects keep my attention, but it's time to move the story along. I get that the main character and the "criminals" are stuck in the past, but I don't want to have to wait until next season for the plot to thicken. What do you think?
Admin




Posts

: 108


Join date

: 2013-02-18



[img]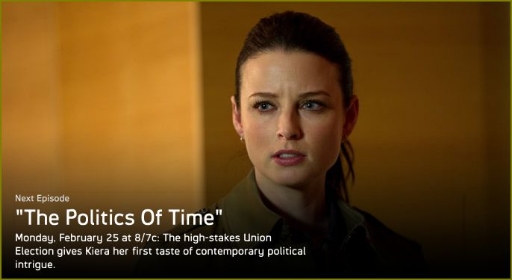 [/img]

CONTINUUM: NOW'S A GOOD TIME TO TRIM THE FAT & FIND ITS HEART


Tonight's episode convinced me that this show is worth keeping on my weekly must-see list, but I'm a easy sell when it comes to sci-fi programs. Well most of the time. Here's a few suggestions to give this show a longer shelf-life:

1. Either get rid of the kid in the barn or give him more to do than I.T.
2. Move along the storyline of the step-brother and his creepy friends or loose them altogether.
3. FF to an episode that would air as a season finale. In other words, move this story along it's getting a little boring. You can ride on the attractiveness of the lead actress and the novelty of the show's concept only for so long before it gets old.


At the moment, this show is secure in its spot as far as sci-fi fans go. But that's probably because we don't have a large, uh, make that any selection to currently choose from. Yeah we're desperate, but we've been known to kick a show's ass off the air and across the Universe quick! With the coming of Defiance and the new season's line up I'd hate to see the network turn its back on a show with good potential. Don't think they won't. Can you say Stargate Universe or Caprica? This network is as loyal to sci-fi as Ben & Jerry's is to bake goods

. WHAT DO YOU THINK?
Admin




Posts

: 108


Join date

: 2013-02-18




---
Permissions in this forum:
You
cannot
reply to topics in this forum