[img]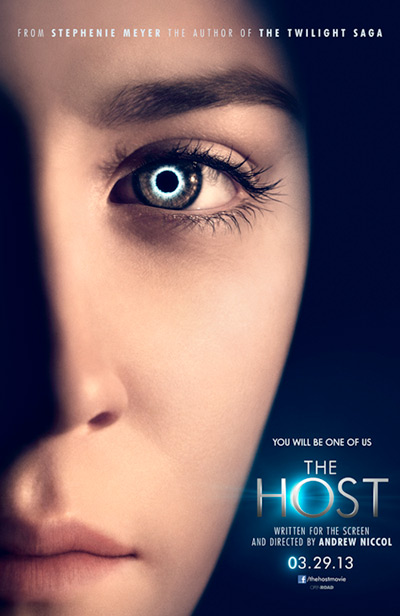 [/img]
"THE HOST" LIKE ITS PREMISE IS A TWEEN FANTASY ROMANCE VEILED AS SCI-FI

Yes it was me that said I'd go to the opening of an envelope if I were bored enough. Yesterday that's what I did when I saw "The Host." To be honest a notice from a bill collector would have been more welcomed

(note to self: make a payment).

Now before all you Stephenie Meyer fans light up your torches, sharpen your machetes, and prepare to go all medieval on my arse I must say "The Host" wasn't a total wash. The film's lead 17 (now 18) year old Saoirse Ronan delivered a solid performance as the lead character, which is a great feat considering 90% of the picture rested squarely on her shoulders and that she had to act out this ridiculous inner dialogue. Which by the way may play well in the book, but failed to translate on screen (talk to yourself much?).



I went into this film not knowing it was based on a book I have never read (yeah I've been living under the proverbial rock). However, a little research revealed Host's background–Stephenie Meyer famed author of horny, tween, fantasy

novellas does attempts sci-fi. 'Host' started off with the potential to be a great sci-fi flick, but its slow pacing, one-dimensional characters, and silly dialogue signaled its doom. The premise of the film and great cinematography kept it on track for about a third of the way, however its fate was sealed when the film failed to reach an acceptable climatic point. The way this film was marketed you'd think they would have ratchet up the action–hell, there wasn't one EXPLOSION or any great battle scenes in the whole film! Is this really sci-fi?



Once again, Meyer displays her effective (yet, sometimes overplayed) penchant for the "PG-13 three-way." You know the "innocent girl" with massive potential, "conflicted boyfriend" who's sure to get the blood pumping and the "(ooh, I know I shouldn't, but I want to cause he's too damn cute to refuse) brooding interloper" archetype. Sound familiar–No? Okay, I'll spell it out for ya'–T.W.I.L.I.G.H.T –ARG!!



To the film's credit it delivered the goods for its target audience–romance and understated excitement. The film's score was spot on in conveying the air of melancholy for mankind's fate and hope for its survival. Its narrative was lofty enough to warrant a second film if executed properly. However, I'm not sure this first film's ROI will see that to fruition. Only time will tell.

All in all I was left on the fence with this one. "The Host" would make for a great television series, but not a movie veiled as a "come-hither" for true sci-fi fans.


Admin




Posts

: 108


Join date

: 2013-02-18





Similar topics
---
Permissions in this forum:
You
cannot
reply to topics in this forum